Alexander Para, Sensei
Shibucho, Head Instructor
Alex Para Sensei came to iaido in 2007 while on deployment in Japan. After Training directly with Stockwell Kancho he returned to the US with the urging of Kancho to start a dojo. Seishinkan Iaido Manhattan KS was founded in 2016. In 2018 he oversaw the founding of the Warrensburg dojo. He now serves as Shibucho (branch director) of Seishinkan Iaido USA.
---
Don Eisele, Sensei
Deputy Head Instructor
Don Eisele Sensei has been training with Para Sensei since the founding of the dojo in 2016. He routinely travels with Para Sensei to train at the Warrensburg dojo and elsewhere. He oversees the general operations of the Warrensburg dojo as well as Seishinkan USA members at large in Rolla, Wichita, and elsewhere.
Don also trains in Aikido and is the Chief Instructor and Dojo-cho of Tatsumaki Aikikai/KSU Aikido.
---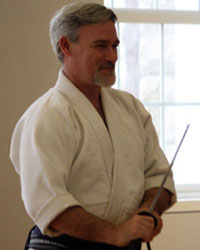 Tom Burden, Sempai
Daisempai (Head Senior Student)
Tom Sempai got his first taste of iaido at a workshop in Chicago in 2016. In 2017 he trained in Manhattan under Eisele Sensei and Wallace Sensei and later with Para Sensei. He is the head senior student of Seishinkan Iaido Warrensburg and leads classes in sensei's absence.
Tom also trains in aikido and is the Chief Instructor and Dojo-cho of Central Aikido.
---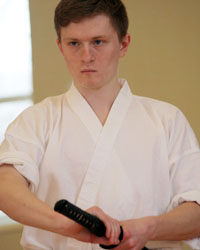 Tanner Brandes, Sempai
Tanner Sempai started his life in iaido in early 2018 under the direction of Para Sensei and Eisele Sensei. He has been a staple of the dojo ever sense.